Message
Building a transportation and mobility network following latest technological innovations and providing smart services and easy accessibility to all segments of society efficiently and effectively in step with best regional and global standards and practices.
Minister's Message
The sustainable development of our country in all its aspects, whether human, economic or social, reflects the stated aims and objectives of our political leadership, led by the wise vision of His Highness Sheikh Tamim Bin Hamad Al Thani, Emir of Qatar.
Transportation play a vital role in all areas of modern life. They ensure the delivery of goods and services for individuals and communities, underpin the growth of other sectors, such as agriculture, industry, mining and trade and drive the development of modern cities, societies and economies.

The establishment of the Ministry of Transport and its mandates in accordance with Amiri Decision No. 57 of 2021 is an expression of the goals that we all seek for our State in line with Qatar National Vision 2030. The Ministry confirms its commitment to hard and diligent work through projects and programs that aim to build a land, maritime and aviation transportation system.
The Ministry invites all public and private entities to cooperate in order to continue to develop our homeland and achieve the Qatar National Vision 2030.
Jassim Saif Ahmed Al Sulaiti
Minister of Transport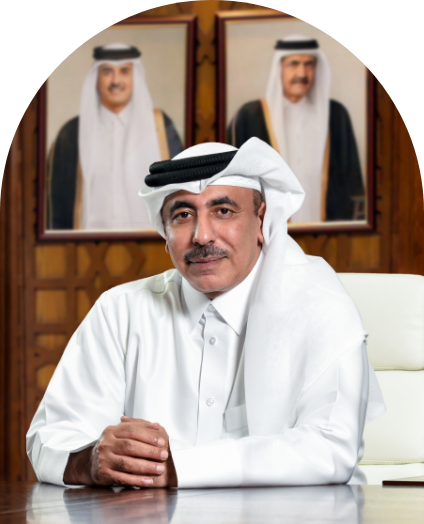 Vision
Delivering safe, integrated and environment-friendly transportation and mobility system that keeps pace with urban and population growths, improves social life, reinforces environmental sustainability, and supports economic growth to achieve national development requirements.

Our Values
Institutional Excellence: Deploying highest world institutional performance standards
Creativity in Planning: Embracing & empowering organizational innovation
Accuracy in Implementation: Monitoring performance, measuring indicators & regularly reporting to decision makers
Transparency and Participation: Publishing organizational policies and processes & involving staff in decision-making
Continuous Improvement: Continual review of strategies, plans and processes & applying corrective actions
Collaboration with Partners: Involving partners and stakeholders in all relevant processes and services
Aiming to Fulfill Citizens' Aspirations: Employing customer and citizen satisfaction measurement as a fundamental component in all the services MOT provides, and improving the services based on their aspirations